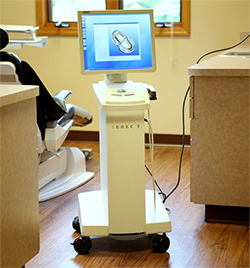 How does the technology we've invested in help you, our patient?
Chairside Economical Restorations of Esthetic Ceramic (CEREC®) has revolutionized dental procedures. Traditionally, if crowns, onlays, inlays or dental veneers were required to restore damaged teeth, multiple procedures and a great deal of waiting time in-between would be inevitable. CEREC® creates these ceramic restorations within minutes in the dental office. This means that many treatments can be completed in just a single visit.
CEREC® is comprised of several computer-assisted design (CAD) tools and a milling machine that creates custom ceramic restorative devices. CEREC® can benefit almost anyone needing a ceramic restoration. This is of great benefit to nervous patients, and it can also reduce the cost of treatment.
What can this innovation mean for a patient?
Here are some other advantages associated with CEREC®:
CEREC restorations can be completed in one visit. You walk out with a strong, aesthetic-looking permanent porcelain crown right away; no temporaries and no second appointment.
Natural-looking. The porcelain used for CEREC restorations has the same kind of translucency as natural teeth. Ceramic blocks come in 17 shades for precise color matching.
Strong and durable. CEREC porcelain is strong and lasting, even for back teeth. Studies show they last at least as long as metal-filled crowns.
Natural-acting. Because CEREC restorations are milled out from a single block of porcelain, they are less prone to cracks and flaws. The porcelain also expands in the same way that teeth do.
Accurate matching. Being able to digitally scan, design, mill and modify the CEREC restoration chairside allows Dr. Patel to create accurately matching and properly positioned crowns.
All-porcelain, biocompatible. CEREC crowns are milled out of a single block of body-friendly porcelain and do not require any additional material, including metal.
What is the CEREC® system comprised of?
The CEREC® System is sometimes called a CAD-CAM system. CAD-CAM means Computer Assisted Design and Computer Assisted Milling. The CEREC® system has three major components:
Acquisition device: This device is home to a high-quality camera and a medical grade computer. The function of this unit is to photograph the prepared tooth. Three-dimensional images are created of the tooth on the screen, which the dentist uses to design the perfect ceramic restoration.
Three-dimensional CAD software: This software allows the dentist to examine the tooth from every angle. It is the closest possible thing to holding the tooth in the hands and rotating it.
Milling device: This unit actually manufactures the custom restoration from the specifications entered into the computer. A ceramic block that best resembles the existing tooth color is chosen and placed into the unit. Within minutes, the milling device produces the restoration the dentist designed.
Our Location
2001 Marcus Avenue
Suite 168 South

Lake Success
,
NY
11042
(516) 355-2700
Follow Us